KIMROSE™ COLLECTION
Kimrose™ 10 Light Linear Chandelier with Clear Fluted Glass Brushed Natural Brass
52413BNB
(Brushed Natural Brass)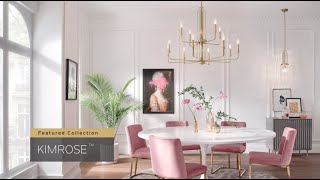 KIMROSE™ COLLECTION
Kimrose™ 10 Light Linear Chandelier with Clear Fluted Glass Brushed Natural Brass
52413BNB (Brushed Natural Brass)
---
The Kimrose™ 10 light linear chandelier is an Art Deco masterpiece. Its geometric shapes take center stage in a gorgeous Brushed Natural Brass finish. The shades are Clear Fluted Glass, meaning they're ribbed gently with vertical grooves to produce a subtle lighting effect. For lighting without the effect, simply remove the shades.
---
FINISH: Brushed Natural Brass
---
The Kimrose™ 10 light linear chandelier features geometric shapes in a gorgeous Brushed Natural Brass finish and removeable Clear Fluted Glass shades.
The unique lux Art Deco details of these carefully crafted Kimrose fixtures are sure to start a conversation.
Linear chandeliers are inherently eye-catching, but this Kimrose chandelier takes it to another level. Featuring geometric shapes, it exudes Art Deco design at its most luxurious. With multiple rounded corners, gorgeous Brushed Natural Brass finish, and fluted glass, this fixture indulges the senses and begs for admiration.
This linear chandelier is all about creating the look you want. It contains multiple stems for customizable lengths. You can also use a combination of stem and chain. Keep the fluted glass shades for a subtle lighting effect or remove them for a more natural lighting.
Make an impression with this linear chandelier over a long table in a dining room or kitchen.
Takes ten E12 up to 60W candelabra bulbs or equivalent LED bulbs. (Bulbs not included.)
The cylinders are clear, so they produce an ambient light, while their ribbing creates a unique, subtle lighting effect. For more natural lighting, simply remove the cylinders.
The candle arms come preassembled, making them easier to install. There are no minimum or maximums for hanging heights.
Cleaning instructions: Be certain the electric current is turned off before cleaning. Clean metal components with a soft cloth moistened with a mild liquid soap solution. Wipe clean and buff with a very soft dry cloth. Under no circumstances should any metal polish be used, as its abrasive nature could damage the protective finish placed on the metal parts. Never wash glass shades in an automatic dishwasher. Instead, line a sink with a towel and fill with warm water and mild liquid soap. Wash glass with a soft cloth, rinse and wipe dry.
Mounting/Installation
Interior/Exterior

Lead Wire Length

Location Rating

Mounting Style

Mounting Weight

Dimensions
Base Backplate

Chain/Stem Length

Weight

Height

Length

Overall Height

Width

Light Source
Dimmable

Dimmable Notes

Lamp Included

Lamp Type

Light Source

Max or Nominal Watt

# of Bulbs/LED Modules

Max Wattage/Range

Socket Type

Product/Ordering Information
SKU

Finish

UPC

Housing
Diffuser Description

Primary Material

Certifications/Qualifications
ADA Compliant