CIONA™ COLLECTION
Ciona™ 43" 5 Light Linear Chandelier with Round Ribbed Glass Brushed Natural Brass
52430BNB
(Brushed Natural Brass)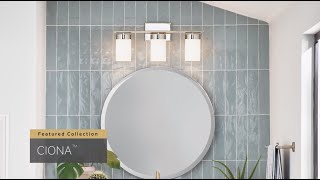 CIONA™ COLLECTION
Ciona™ 43" 5 Light Linear Chandelier with Round Ribbed Glass Brushed Natural Brass
52430BNB (Brushed Natural Brass)
---
Ciona™ 5 light linear chandelier captures elegance in an unapologetically simple way. Its Round Ribbed Glass shades were inspired by ancient Egyptian columns, and its Natural Brushed Brass finish brings new meaning to the word classy.
---
FINISH: Brushed Natural Brass
---
Ciona™ 5 light linear chandelier pairs Round Ribbed Glass shades with a modern yet classic Natural Brushed Brass finish.
Born out of Art Deco, Ciona™ also works well in traditional and modern interiors.
The Ciona™ shades are made of a unique Ribbed Glass. Their shape was inspired by the columns first found throughout ancient Egyptian architecture. Textured columns have a long history of representing the exquisite, and the Ciona™ linear chandelier is no exception.
Ciona™ provides a beautiful ambient light. It also lets a little light leak out the bottom of the cup — a delightfully welcome surprise.
Add an Art Deco flair over your kitchen island or above your dining room table.
Takes five medium E26 up to 75W bulbs or equivalent LED bulbs. (Bulbs not included.)
Enjoy the ambient lighting the Ciona™ linear chandelier produces.
Install with the Kichler standard additional stem.
Cleaning instructions: Be certain the electric current is turned off before cleaning. Clean metal components with a soft cloth moistened with a mild liquid soap solution. Wipe clean and buff with a very soft dry cloth. Under no circumstances should any metal polish be used, as its abrasive nature could damage the protective finish placed on the metal parts. Never wash glass shades in an automatic dishwasher. Instead, line a sink with a towel and fill with warm water and mild liquid soap. Wash glass with a soft cloth, rinse and wipe dry.
Mounting/Installation
Interior/Exterior

Lead Wire Length

Location Rating

Mounting Style

Mounting Weight

Dimensions
Base Backplate

Chain/Stem Length

Weight

Height

Length

Overall Height

Width

Light Source
Dimmable

Dimmable Notes

Lamp Included

Lamp Type

Light Source

Max or Nominal Watt

# of Bulbs/LED Modules

Max Wattage/Range

Socket Type

Product/Ordering Information
SKU

Finish

UPC

Housing
Diffuser Description

Primary Material

Certifications/Qualifications
ADA Compliant