BRIANNE™ COLLECTION
Brianne™ 24.5" 3 Light Vanity Light with Satin Etched Cased Opal Glass Brushed Natural Brass
55117BNB
(Brushed Natural Brass)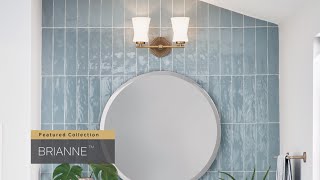 BRIANNE™ COLLECTION
Brianne™ 24.5" 3 Light Vanity Light with Satin Etched Cased Opal Glass Brushed Natural Brass
55117BNB (Brushed Natural Brass)
---
The Brianne™ 3 light vanity makes luxury fun. Its backplate was inspired by the starburst clocks of mid-century design. Coupled with the uniquely shaped glass shades, it's retro at its finest. The stylish Brushed Natural Brass finish tempers the shine but not the glam.
---
FINISH: Brushed Natural Brass
---
The Brianne™ 3 light vanity light features uniquely cinched glass shades against a Brushed Natural Brass starburst backplate.
Mid-century modern design keeps the retro alive, and Brianne keeps it luxurious.
The starburst is the quintessential mid-century motif. It can be found on vintage clocks, mirrors, and even furniture. Brianne features this iconic design on its backplate, beautifully elevating it to luxurious heights.
The Brianne vanity light makes your bathroom luxuriously fun in a retro kind of way.
Takes three medium A19 up to 75W bulbs or equivalent LED bulbs. (Bulbs not included.)
Brianne offers a natural, ambient light.
Cleaning instructions: Be certain the electric current is turned off before cleaning. Clean metal components with a soft cloth moistened with a mild liquid soap solution. Wipe clean and buff with a very soft dry cloth. Under no circumstances should any metal polish be used, as its abrasive nature could damage the protective finish placed on the metal parts. Never wash glass shades in an automatic dishwasher. Instead, line a sink with a towel and fill with warm water and mild liquid soap. Wash glass with a soft cloth, rinse and wipe dry.
Mounting/Installation
Install Glass Up or Down

Interior/Exterior

Lead Wire Length

Location Rating

Mounting Style

Mounting Weight

Dimensions
Base Backplate

Extension

Weight

Height from center of Wall opening (Spec Sheet)

Height

Length

Width

Light Source
Dimmable

Lamp Included

Lamp Type

Light Source

Max or Nominal Watt

# of Bulbs/LED Modules

Max Wattage/Range

Socket Type

Product/Ordering Information
SKU

Finish

UPC

Housing
Diffuser Description

Primary Material

Shade Dimensions